10 Highlights of Dutch Design at Maison et Objet fair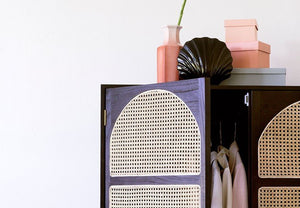 We've been out of office quite a lot the past few weeks. It is show-and-fair-season again, which means: discovering great new design brands with potential for the ME market.
Janaika focused her trip purely around visiting Dutch design brands, which turned out to be 204 exhibitors split over 8 halls in 5 days!!!  
It was hard to make a selection, but find below a small Dutch design tour through the French fair;

1. HK Living 



One of our biggest brands had a prominent spot on the fair and created a stand that had a complete '80s vibe: whether it be the use of color, the usage of materials like velvet or the fact that they have a complete range with cane webbing furniture; it al took us back. Especially this retro cane webbing seems to making a serious comeback for this year. We fell in love with the natural, artisanal but still modern vibe hanging around the cane webbed closets.

Highlights: the retro closet and oval closet, velvet dining chairs
Now available as pre-orders on the website -> delivery date January 2019
2. Puik



Our other main brand Puik took a different approach; they stayed true to their clean, fresh and sometimes quirky design by offering us a booth with all new products in a chique modern setting.  We fell for their new range of lighting products by Ilias Ernst and Kranen/Gille; Cone and Groove are both lamps made out of steel with a sleek design that with its simplicity would lighten up every restaurant or hotel room.
Highlights: New lighting Cone & Groove (soon to be added to our webshop)

3. Tiny Miracles


Also Tiny Miracles goes back to nature by using natural brown and marble in their newest edition of the papervases. New to their collection is a range of very cool lamp shades: from geometrical leather lampshades that would work great in an industrial or contemporary environment up to ones made out of sturdy paper with a fresh gradient color that would really complete a more industrial or hip setting.

Available Mid of October
4. VLUV
The ergonomical world was eagerly waiting for a design update. That is where VLUV comes in with the world's first covered seating balls that bring healthy seating in style. The warm and comfy material is more inviting than the PVC balls we are familiar with. Also; VLUV brings them in special pool & lounge editions for every hospitality application.
Available soon in our studio
5. LUNEdot


It's amazing to contemplate the fact that the ancient candle never had a decent innovative and/or design upgrade. LUNEdot was annoyed by the struggle of getting candles into candleholders and its usually quite unsafe situations with instability. LUNEdot brings a concept that is modular with an outer shelf and a spring and a magnetic baseplate. This makes this a very cost efficient, safe and easy to use in for instance restaurants.

Showroom model now available at our studio
6. Creative Lab Amsterdam


We're very happy to add the wallpapers of Creative Lab Amsterdam to our collection. Their vivid and happy wallpapers are all in line with the trends of biophilia: bring the outdoors indoors and nature closer into your home/ office space.

Samples available at our studio
7. Jokjor


Another brand that works really well in the project market: Jokjor. A brand that has quality and usability as basis but always finds ways to customize and make every product perfectly fit for the environment it is meant for. It is possible to provide the products with logos and custom imagery, color and to for instance design your own carpets. 
8. Mariska Meijers
Mariska Meijers starts with patterns and colors. That is very well visible when you take a look at her vibrant and colorful collection. The unique design finds its origin in the artwork and paintings of Marijke and will add that extra sass and color. For instance; the tray tables that would work very well in any restaurant.

9. Maretti Lighting


Maretti Lighting doesn't only offer pieces designed by big names like Jan des Bouvrie or Piet Boon, they offer the complete package of light architecture. They are highly recommended for big projects and are able to customize and use their expertise for either it be shops and showrooms, restaurants or hotels, healthcare and wellness facilities, companies or living area's.
10. Stoned Marble




Marble is on the trendlists for quite some years now. Of course we're happy to see that there is now a movement towards more local and handmade for this mass-used product. Stoned creates unique designs like side tables, bowls, book ends and trays and all does this by hand in their workshop in Amsterdam. This makes every piece unique and durable. 
This is just a selection of ten, of course we discovered much much more during the fair. Keep good track of our website; there might be some new products on their way with thanks to Maison et Objet…
Leave a comment
Comments will be approved before showing up.
---
Also in News
We are excited to be a part of the 
Marketplace
 taking place 
11-12 November in Dubai Design District (d3)
. Where creativity meets community: Explore, shop and support artisans at the Marketplace, part of 
Dubai Design Week.
What better timing than during the Dubai Design Week to launch our new exclusive brand!

Urban Nest is excited to introduce our latest design brand, Swedish Ninja, born from a serendipitous encounter at the prestigious Maison & Objet fair in Paris last September. Janaika Elders, Founder & CEO of Urban Nest, discovered Swedish Ninja amidst the creative buzz of the fair. The brand's vibrant and playful designs instantly resonated with Urban Nest's aesthetic, leading to a perfect union.
We're thrilled to announce that our highly anticipated 
BIG WAREHOUSE SALE
 is happening this 
Friday (June 2, 9am-6pm), Saturday & Sunday (June 3-4, 10am-4pm)!
 And the best part? You can enjoy the sale both 
in-store and online!