Christmas vibes are here!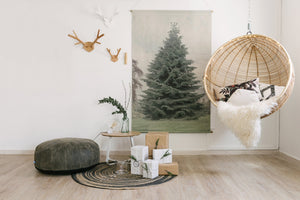 It might sounds far, but Christmas is just 36 sleeps away. Maybe you haven't yet, but we have started our preparations for the gifting season! Just to be in time to inspire you and save you from last minute decoration and gifting stress... We wrapped up a photoshoot for gifting and table setting for the holidays and like to share this inspiration with you…
Christmas tree
Let's start with what usually is the biggest burden… the tree. Yay or nay this year? Too much hassle finding the right one? Real or a plastic one that won't shed its needles before Christmas even started? And when you decide on a fake one; where to store it for next year? And does it need new decorations? What is this years color? 
Yes, we can hear you think and know exactly how to help you out with the latest boho trend from Europe; HK Living completely rethought the concept of the Christmas tree and came up with a Christmas Tree Wallchart. We know how you love our wall charts so made sure to have supply on this very special one as well.
So what makes this wall hanging tree that much more amazing than a regular one? (mind you, this will be a long list)
You simply hang it on the wall, no hassle with setting up. It needs minimal storage space. No risks with children or pets grabbing decorations/climbing into it/whatever they could do with a tree. No need for rearranging of your entire interior to find space. No needles everywhere, this one will always be green. Taking down the tree only takes a minute. No hassle with extensive and expensive decorations to make it look like something; this wall chart already looks Christmassy!
To show you how great you can make it look in your home we've been styling several decors with it (yes, you can put Christmas lights in it too!). Get inspired:


Also a fan of the Special Christmas XL Tree Wall Chart? Get it here
Gifting
Another stressful point of attention; finding the right gifts for everyone. Find here a selection for him and for her; 
For him:
Puik's Radiant glasses and Rare vase. Would work with a Scotch (on the rocks) as well.
For him:


Make sure he's never late again with Puik's Clork.
For him and her: 

Paper Vases; available in different colors and patterns. From sturdy natural and marble up to friendly and brightly colored.

For him and her: 

Make sure he/she doesn't pile up clothes anymore but hang them fashionably with Puik's Loop Hanger (set of 3). 

For her: 

Puik's Circum works its charm with presenting and storing sweets and cookies, but would work as an accessory box as well. 

For her: 

Airplant DIY Himmelis: cute little plant hangers with that small touch of greenery every interior needs (and; a nice mindful moment when you have to assemble it).

Table decor 
Also here we see lots of natural colors, no straight lines but imperfectly perfect handmade items and no flowers but plants and greens. 
What products will you use to get ready for Christmas? Share your own deco-ideas and usage of the wall chart with us on Instagram with #myurbannest 
Because images speak louder than words, get inspired by our various set-ups; 
















Featured products: Paper Vase green gradient | Green dinner plate | Ceramic spoon | Radiant glasses | Rare carafe | Jungle bowl | Jungle serving plate | Black under plate | Marble board | Circum bowl high | Natural antler | Wall chart Kyoto | Wall chart seasons greetings | Print Dubai | Shunan side table | Rattan hanging bowl chair | Rattan bench | Pouf army green | Printed rug | Round jute rug
Styling by Aisling Young - Adore Decor
Photography by Natelee Cocks
Leave a comment
Comments will be approved before showing up.
---
Also in News
We're thrilled to announce that our highly anticipated 
BIG WAREHOUSE SALE
 is happening this 
Friday (June 2, 9am-6pm), Saturday & Sunday (June 3-4, 10am-4pm)!
 And the best part? You can enjoy the sale both 
in-store and online!
Want to learn how to incorporate Feng shui techniques in your interiors? 
In this one-of-a-kind workshop, interior designer 
Sameera Ameer, founder of

 

Studio Tsubi
,
will discuss the basics and principles of the Chinese art 
"Feng Shui."
The sales executive is the first person to meet and greet customers that come to visit our showroom. He/She must welcome our customers, understand their needs and advise. He/ She is also responsible for putting on the best displays, deliver exceptional customer service and respond to customer requests and questions with technical product knowledge and finesse.