World Water Day 2020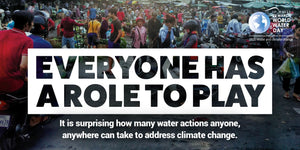 With us human beings existing out of it for 60% and our complete eco-system depending on it, it is unbelievable to see how we take the existence and availability of water for granted the way we do nowadays. The 22nd of March is a day to change that ignorance and let us celebrate freshwater during World Water Day, with this year's theme 'Water and Climate Change', because water and climate change are inextricably linked.

As a web-shop with sustainability as one of our core values, we of course want to pay attention to this day.

A future of Scarcity
Although Sustainable Development Goal 6 (SDG 6) established by the UN aims to ensure availability and sustainable management of water for all by 2030, current developments show that that is far from a fait accompli.
The plastic soup that really gained attention last year is just the first problem that really makes it hard to achieve that goal, let alone the scientific prognoses that growing world population, growing water consumption and shrinkage of freshwater stores all are warning us for a future of freshwater scarcity.

2020 WWD campaign
This year's campaign has a few important take-outs; 
- We cannot afford to wait; climate policy makers must put water at the heart of action plans
- Water can help fight climate change. There are sustainable affordable and scalable solutions
- Everyone has a role to play. In our daily lives there are surprisingly easy steps we can all take to address climate change

Water in the UAE
With us living in the (water scarce) desert, there should be a daily act of gratitude once we open our water tap, take a shower or drink a glass. In the mean time water consumption here shows high levels of self-evidence: we buy excessive amounts of PET-bottles and the UAE has one of the highest rates of water consumption per capita in the world (550 liters per day).
But in the end all change has to start somewhere and every consumer can change his or her behavior a little so that we together can make a big difference. 
Play your role; consume responsible
Especially in the light of current events (hoarding madness!) it is time to take a critical look to our own consuming behavior. Are you buying what you need (remember last year's theme of WWD: no one left behind)? 
Or let's start with the plastic soup causing PET-bottles our water comes in: is it necessary to keep buying water in bottles? Can you install a filter so you can start using your tap? And IF you have to use bottles: why not re-use them instead of throwing them out immediately?

Some of the responsible options we provide;

New Citizen Design: Oasis Vase


Who doesn't want to make a (sustainable, up-cycled) statement in their home or office? 
Oasis is a multifaceted project that aims to revive the value of water through the objects that represent it. Water cooler gallons are the perfect example of how products can lose their appeal when form becomes inferior to function and producibility. To reassess the way we look at this standardized object, Moreno Schweikle utilizes discarded water cooler bottles to create a series of unique, handmade sculptural vases. 

Tiny Miracles Foundation
PET-bottle waste is what triggered Pepe Heykoop to start with paper vases for his Tiny Miracles Foundation. These vases are basically plastified paper covers for your empty (PET-)bottles at home, to upgrade them to very modern and fresh-looking vases. At least these bottles now are granted a second life. Besides that Pepe lets his vases being fair-trade produced by women in one of the most impoverished areas of Mumbai, granting them a chance in life.



To celebrate world water day, we at Urban Nest offer 15% discount on all paper vases for from now until 24th of March 23:59h. Simply use discount code WWD15
Make the best of your 22ndof March with mindful water-usage and by buying our paper vases! 
Leave a comment
Comments will be approved before showing up.
---
Also in News
We're thrilled to announce that our highly anticipated 
BIG WAREHOUSE SALE
 is happening this 
Friday (June 2, 9am-6pm), Saturday & Sunday (June 3-4, 10am-4pm)!
 And the best part? You can enjoy the sale both 
in-store and online!
Want to learn how to incorporate Feng shui techniques in your interiors? 
In this one-of-a-kind workshop, interior designer 
Sameera Ameer, founder of

 

Studio Tsubi
,
will discuss the basics and principles of the Chinese art 
"Feng Shui."
The sales executive is the first person to meet and greet customers that come to visit our showroom. He/She must welcome our customers, understand their needs and advise. He/ She is also responsible for putting on the best displays, deliver exceptional customer service and respond to customer requests and questions with technical product knowledge and finesse.